c  SUD Canada Inc  1988 - 2011

- all rights reserved -

We Adhere to an Online Privacy Policy

ST. CATHARINES

26 St. Paul Crescent

Downtown, St. Catharines

905-682-SUDS


HISTORY

This part of the site is going to cover a wide range of stuff - from the old school Bond Street days right up to the present... you'll see stories and pics from Hydro, the Pit, the Cage ramp, etc... pics and stories from former team, staff, etc...  pro's and demo's from over the years... roadtrips, friends, etc.... but best of all, personal accounts and tales from days gone by, by as many diff names from the past as we can find - kind of a "where are they now" and "what they remembered" kinda deal.

This is gonna take some time to put together, but to me this is the most important part of our site - remembering + documenting everyone that participated, contributed, shed blood and broke bones...the ones who helped define SUD Skates over all these years.

Any pics, stories, memories, etc that you might have and like to contribute - please email me at
sudskates@gmail.com
----------------------------------------------

MAIL-ORDER

Sorry, but we do not support mail-order, except for SUD

merchandise (coming soon)... and, of course, mail-order brides....

Support

Your Local

Skate Shop!

If you don't have one - START

ONE....that's what we did...and

look at us now!

---------------------------------------------


You'll be the first to be updated

on sales, events, contests, etc!

PLUS you can win free stuff!

---------------------------------------------

Any pics, stories, memories, etc that you might have and would like to contribute to the site - please email Joe at sudskates@gmail.com
...Back in the day.....testimonials

Mike Hamilton - employee, manager, keeper of the faith

"SUD history eh, where to start?  I have been here for a while and trying to write about just one memory is almost impossible.  Do I write about the countless late night party/sessions we've had?  Do I write about one of our yearly tradeshow trips to Montreal?  Do I write about one of our Snow Bus trips or one of the many demos we've held?  Do I write about one of the amazing tricks I've seen landed in the park or about taking one of the little groms to the hospital?  Slam City Jam was fun, but so was our $1000.00 contest.  Which story to pick?  Well I've narrowed it down to one, and it is one of my first.  Actually it is the first day I ever worked at SUD.  Really it was two days but the second was so much fun that I usually forget about the first.

    The day before Joe had told me that if I wanted to help with the plying of the vert ramp I could come by.  So I stroll into the back lot all full of pride but not really knowing what to expect.  Joe was nowhere to be seen, so not knowing what else to do I asked "where's Joe?".  King Nic, anybody who's ever seen the man from London with an E on his chest knows that the first impression of him can be at the best of times scary.  He was standing shirtless on a 2 X 4 high up the tranny, screwing down the last few pieces of plywood.  "Get the fuck up here and give me a fucking hand you idiot and bring that sheet of plywood with you."  Well so much for introductions.  I managed to get up there with the wood and spent the rest of the day holding masonite in place while the old vert dogs screwed it down.

    We finished just before the sun went down, so there was just enough light for a short session.  Mind you I had never skated a real vert ramp before, but I had worked hard all day and there was no way I was gonna miss out on some virgin masonite.  There was also no way I could hang with the crew that was there so I stood back and watched as they all raged.  They only took a few runs because it got dark pretty quickly.  So Joe, Nic, Jeff and the rest of the crew sat on the deck and cracked a few cold ones.  My time to shine.  I started on the flat bottom and pumped back and forth trying to get the balls to get close to the copeing.  After a few minutes I was ready to try a rock to fakie.  Remember this was my first time on vert.  No helmet, no pads, no problem right.  Wrong, I hung up hard.  11 and a half feet hard.  Straight to the flat hard.  Bamm!  As I laid there in a daze all I could hear was someone on the deck saying "That's what you get for going to fakie."  I don't remember much after that.  All I know is I had a few beers with the boys and called it a night.  A few new friends, a couple of bruises and a slight buzz, that was enough of a day for me.  So home I went and dreamed about the Birdhouse demo I was working the next day.  My dreams could not compare to the skating that actually when down.  Tony Hawk, Ocean Howell, Willy Santos, Matt Beach and Andrew Reynolds all killed it.  But that's another story."

- Mike "Hammer" Hamilton

"Mike's been working at SUD's since 93-94 and that's a long-ass time ...started out as ramp slave/volunteer ...to full time employee ...to eventually manager. Thanks to Mike there's so many stories I can't write about ....roadtrips I can't talk about...and places I can't even say I've been to - so Ima shut up now"    - Joe Sud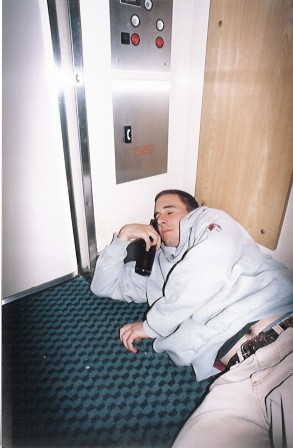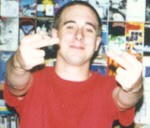 ST. CATHARINES

26 St. Paul Crescent

Downtown, St. Catharines

905-682-SUDS