c  SUD Canada Inc  1988 - 2012

- all rights reserved -

We Adhere to an Online Privacy Policy

ST. CATHARINES

26 St. Paul Crescent

Downtown, St. Catharines

905-682-SUDS


This page is solely dedicated to the SUD Skates team. Bio's, pics, video clips, etc of the present day team, as well as previous "alumni" skate and snowboard team-riders.

This page will also feature demo news, contest results and any media coverage involving the team...as well as links to their sponsors.

----------------------------------------------

Age:
  17



Nickname:
  Bigidi



Years Skating:
  5            
Stance:
  goofy
Sponsors:  SUD Skates, Downtown Skateboards

From:   St. Catharines

Occupation:   Skate Boarder

Set-Up:   Downtown deck, Indys, Hard wheels, any kind of bearings

Favourite Spots: Day Ford gap, Mississauga park, T.S., St Kitts Library

When Not Skating:  chill with girls and play music

Music:    We Want Barabus, Smiths Grove Synapse, Jamie Godard

Fave Pro's:  Appleyard

Fave Local Skater:  Mike Graveline, Chris Armstrong, Josh Thompson

Fave Food:   anything you got!!

If I won a $Million:  buy an ultimate skatepark for me and my bros

"John Bergsma is a full on lady's man. I'm talkin slappin mad ho's he hooks with his I'm a nice guy you can trust then gives them the thrust, when he's not pimping or folding he's using his pimp hand to hold down huge frontside airs. Its a 29 year old married man I live my youth over and over again through him." - Joe Eckmier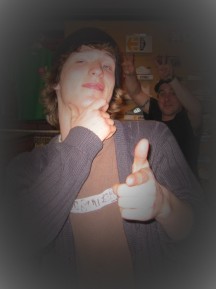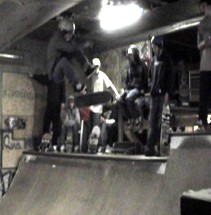 some video clips from the March Break contest...more clips to come...